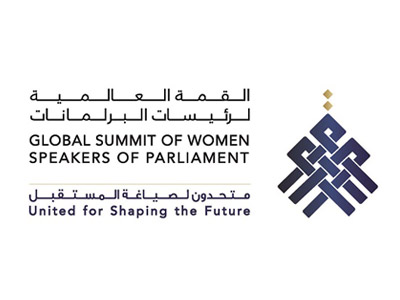 Global Summit of Women Speakers of Parliament Raises Curtains in the UAE Capital
Convenes Parliamentarians, Thought Leaders, Academicians in Abu Dhabi to Explore World Challenges, Examine Solutions
The inaugural edition of the Global Summit of Women Speakers of Parliament (GSWSP), convenes today (Monday, 12 December) at the Emirates Palace in the UAE capital under the theme 'United for shaping the future'.
Held under the patronage of Her Highness Sheikha Fatima bint Mubarak, President of the General Women's Union (GWU), Supreme President of the Family Development Foundation, and President of the Supreme Council for Motherhood and Childhood, the summit is organised by the Federal National Council, the UAE's parliamentary entity, in collaboration with the Inter-parliamentary Union, the international organisation of parliaments.
The landmark event convenes more than 50 women speakers of parliaments from around the world as well as major global leaders from across government, business, industry and society.
Among the 1,000 participants attending the event, 400 are members of parliaments representing 50 countries – 100 of them from the Arab world. Headlined by nearly 100 prominent influencers and thought-leaders who are set to enrich the discussions with well-evaluated insights and perspectives, the summit is also hosting a panel dedicated to the youth, that will draw 100 youth delegates to participate in discussions with prominent parliamentary members from around the world.
Boasting a packed agenda of thought sessions, the two-day event presents a unique opportunity to exchange views with world leaders spanning sectors and disciplines. Furthermore, it provides the exclusive prospect of shaping a parliamentary agenda based on evolving political, economic, environmental and social changes that impact global security, prosperity and sustainability, and therefore require a united global government response.
As part of the Global Summit of Women Speakers of Parliament, a Future Exhibition is also being conducted in collaboration with prestigious entities and organisations within the UAE. The exhibition aims to highlight the importance of a future outlook that supports scientific research, promotes innovation, and creates an environment that fosters creativity to build smart cities.
Meanwhile, the Women Achievements Exhibition also forms a key attraction of the GSWSP and showcases the success stories of Emirati women across diverse walks of life.
With a view to identifying viable solutions to the world's most complex challenges, the summit will culminate with actionable recommendations and build on the declarations of previous IPU-sponsored events.