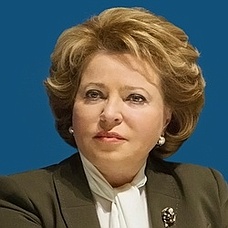 H.E. Valentina Matvienko
Chairperson, Council of The Federation of the Federal Assembly of The Russian Federation
Russian Federation
Biography
Her Excellency Valentina Matvienko is the Chairperson of Federal Council of Russia. She has served as the country's Deputy Prime Minister and also as the governor of St. Petersburg. She ranks among the top political figures in Russia.
Ms. Matvienko entered the world of politics soon after her graduation in 1972 from the Leningrad Institute of Chemistry and Pharmaceutics. Between 1984 and 1986, she became the first secretary of the Krasnogvardeisky District Committee of the CPSU in the city of Leningrad. In 1989 she was elected as the People's Deputy of the USSR, and headed the Supreme Soviet Committee on Women, Families, Maternity and Childhood.
In 1991 she joined the diplomatic service and served as diplomat till 1998. During this time, she served as Ambassador Extraordinary and Plenipotentiary of the USSR and the Russian Federation to the Republic of Malta, Director of the Department for Liaisons with the Constituent Entities of the Federation, member of the Collegium of the Ministry of Foreign Affairs and Ambassador Extraordinary and Plenipotentiary of Russia to Greece.
In 2003 she was appointed Plenipotentiary Representative of the President of the Russian Federation in the North-western Federal District. Later, she was elected Governor of the city of St. Petersburg. In 2011, Ms. Matvienko was elected Chairperson of the Council of the Federation of the Federal Assembly of the Russian Federation, and in 2014 she was re-elected to the position.
A recipient of several national and international awards, Ms. Metvienko is a permanent member of the Security Council of Russia.
All session by H.E. Valentina Matvienko