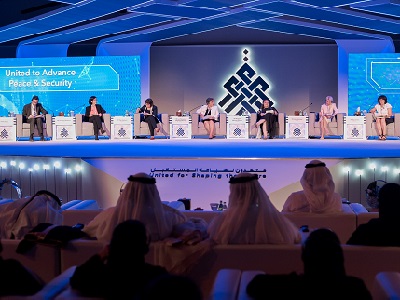 Amidst an unprecedented rise of terrorism across the globe, the Global Summit of Women Speakers of Parliament dedicated its second panel discussion to devising viable plans for advancing peace and stability in the world. Titled 'United to Advance Peace and Security', the session addressed the question of the hour: How will parliaments unite to fight terror and help eradicate its root causes?
Against the background of countries engulfed by growing conflicts that are threatening security within and across borders, panelists shared their insights on identifying key security threats and proposed a variety of solutions to combat the rise of intolerance and extremism. Frank Sesno, Director of the George Washington University School of Media and Public Affairs, facilitated the vibrant discussion.
Esteemed speakers headlining the session included Her Excellency Olga Zrihen, Vice President of the Belgian Senate, Her Excellency Ināra Mūrniece, Speaker of the Latvian Saeima, Her Excellency Margaret Mensah-Williams, Chairperson of the Namibian National Council, Her Excellency Luz Filomena Salgado Rubianes, President of the Congress of the Republic of Peru, Her Excellency Maja Gojković, Speaker of the Serbian National Assembly, and Her Excellency Christine Muttonen, President of the Parliamentary Assembly of the Organization for Security and Co-operation in Europe (OSCE).
The session instigated a discussion on the role of parliaments and society in tackling the overarching levels of violence and the various methods of eradicating extremism, hatred, and intolerance. A common consensus was reached that world parliaments can work together across political domains and religious groups to address methods of promoting peace and security through tolerance, education, equality and dialogue.
Each speaker offered a different perspective on intolerance, however, they all agreed that women have the ability to address conflicts, and must work together to increase their role across political, social, and economic platforms.
In the first speech of the session, Her Excellency Olga Zrihen focused on the role of parliamentarians in addressing human rights issues. She said: "A key message I would like to communicate is the message of responsibility. It is the responsibility of the government authorities to guarantee the rule of law in their countries so that society can remain open and inclusive. These are the conditions that democracy needs to exist. Marginalisation of countries and societies breeds conflicts, which, in turn have many victims. Today, as we witness a huge influx of refugees, we can clearly see how internal conflicts can create fear abroad."
She added: "What is also important, I believe, is that we have to work together to address the fundamental roots of conflict and find solutions. The Inter-Parliamentary Union (IPU) adopted a resolution for combating terrorism, which shows that parliamentarians can unite against violence and terrorism."
Her Excellency Ināra Mūrniece stressed the importance of addressing human rights violations and implementing international order. She said: "The world today faces a multitude of challenges to international peace and security in a time of military conflicts and hybrid warfare, terrorism, extremism, and violence. Violent conflicts have evolved from inter-state wars to intra-state conflicts. Our rule-based international order has been undermined by those who disregard the fundamental principles of peace and human life."
Her Excellency addressed the Syrian crisis, and said: "All of us gathered here know about the horrible human suffering in Syria. Nothing short of a humanitarian catastrophe, increasing violence in Aleppo has caused unspeakable suffering of civilian populations. This cannot continue, the perpetrators of international crimes must be brought to justice. We strongly support the recent United Nations Human Rights Council resolution for staging special inquiry into the events in Aleppo."
She also highlighted the annexation of Crimea and said: "Many conflicts keep burning across the globe, including Europe, as we continue to witness the illegal annexation of Crimea, which is something unheard of in this part of the world in modern times. I confirm our strong and unwavering support for Ukraine's territorial integrity over its entire border. Latvia welcomes the United Nations Resolution on the human rights situation in Crimea, adopted in November, and reinforces the serious concern of the international community over the escalating human rights violation in Crimea. Violence all around the world has caused 60 million people to become refugees."
She added: "Peace and security cannot be guaranteed without protection of human rights and good governance. The protection of human rights is central to conflict resolution. The time has come where we have to strengthen our efforts to prevent conflicts from arising. We need to support peaceful and inclusive societies, but we cannot speak of inclusiveness without recognising the critical role of women. The full participation of women and girls in all aspects of social, political, and economic life is critical to sustainable peace and prosperity, therefore we need to eliminate all legal and social barriers that hinder the empowerment of women and girls."
Her Excellency Margaret Mensah-Williams, Chairperson of the National Council in Namibia spoke of her appreciation of the UAE in hosting this summit. She said "I congratulate my sister Dr Amal Al Qubaisi as well the mother of the nation Her Highness Sheikha Fatima bint Mubarak and all the rulers of the UAE. I thank you all from the bottom of my heart for your hospitality and the way in which you organised this beautiful global summit for women."
She spoke extensively about increasing the role of women in the decision making process and in eradicating conflicts and said: "I encourage all of us to look at the consistent key role for women in development for peace and security. Women should play an active role in this field because whenever there is terrorism and war, the economy and markets have crashed, and even at times of peace and progress, women are always involved and among the first to be affected. We must take part fully and actively in negotiating peace, because women are by their nature peaceful."
She added "We should not have women merely partaking in peace keeping missions but rather leading these missions. I would like us to look at three pillars: social inclusivity, political inclusivity, and economic inclusivity for minority groups including women. Unfortunately if we do not look at social inclusivity we will ignore the human rights of people."
Her Excellency Luz Filomena Salgado Rubianes, President of the Congress of the Republic in Peru, addressed the issue of terrorism, climate change and drug trafficking. She said: "Today we are talking about new threats. Peace and security on a global level has worsened with the rise of these threats. In 2050 we will only have 60% of the water resources we have today. This shortage is going to increase conflict because many populations will go in search of countries and cities to find solutions to this issue. In our country, the congress adopted a constitutional reform so that the right of water is given priority above all consumption."
She added: "The issue of terrorism is an issue that Peru has lived through for more than 50 years. It is only when we captured the heads of the movement perpetrating acts of violence and extremism that we could properly grasp the issue. Today, these groups are trying to reemerge and inspire other groups towards violence. They appeal to those who are unemployed or lack education and are suffering in their societies. We need to make sure these groups are included in society and make our presence as a state felt on all levels of government across all systems of society. We also need to address the issue of drug trafficking, an issue that adversely impacts Peru. Demand for drugs is rising, therefore we must work to ensure drug-producing crops are not grown. We need to strengthen our judicial systems to deal with the punishment of drug traffickers and money laundering. These are issues we need to address collectively in the international community."
Her Excellency Maja Gojković, Speaker of the National Assembly in Serbia addressed the key issue of the migrant crisis that is a result of a lack of peace and security. She said "Peace and security are fundamental issues that require our full commitment particularly today with terrorism, extremist, xenophobia and global warming. Serbia has demonstrated its support to finding solutions regionally and globally. For example migration represents one of the biggest issues in the world. More than 600,000 refugees passed through our country. We need one common and comprehensive response to the migrant crisis in the international community. We need to focus on tackling the root causes of violence and to focus on the prevention of conflicts. Migrants represent one of the biggest issues of peace and security, therefore we need to work together to address this issue."
Her Excellency Christine Muttonen, President of the Parliamentary Assembly of the OSCE also expanded on the role of women in maintaining peace and security in the world. She said: "The topic of advancing peace and security is very important. Women have always been disproportionally affected in conflict. Women hold families together and put food on the table, and provide a safe environment for the children. Women are increasingly targeted in rape and violence and used as a tactic of war. Today women make up the largest percentage of refugees and displaced persons. However, we must note that women are not just primary war victims, they are also primary solvers of war."
Her Excellency highlighted the importance of inclusivity and said: "How can a conflict be settled permanently if half of the population is excluded? In order to create conditions of security we need to facilitate inclusion, as female parliamentarians it is our job to push this issue forward in each of our countries. As female law makers we need to support non-governmental organizations dedicated to strengthening women like Women in Boarders. As law makers we can do more by blocking funding for terrorism and should initiate action to allow women to live a good life and prevent them from being abused."
The session concluded with an open dialogue between the discussion leader and speakers.