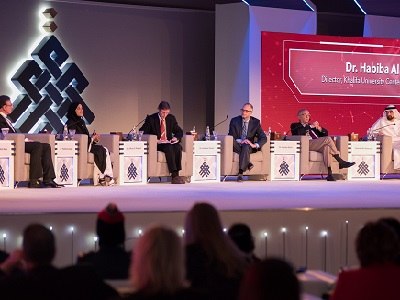 Highlight Opportunities for 'Transformative Innovation' across sciences from microbiology to space tech
Recommend String policy, public-private partnerships as essential for sound, ethical adoption of innovation
In a panel session at the second edition of the Global Summit of Women Speakers of Parliament (GSWS 2016), which concluded today on a high note at Abu Dhabi's Emirates Palace, experts from academia and the public sector highlighted the opportunities, challenges and roadblocks to leveraging transformative science and innovation for growth and development. Titled 'Transformative Innovations: Opportunities and Ethical Dilemmas,' the session explored ethical and moral impacts of new engineering, digital biology, cognitive systems and disruptive inventions brought about by science.
Presenting a keynote address ahead of this session, Marillyn Hewson, Chairman, President and CEO of Lockheed Martin Corporation (USA), said: "The world population is expected to reach nine billion shortly and the GDP is anticipated to double as global trade and communication flows change and technology and innovation takes center-stage in the economy. The world is smaller, more competitive and more integrated than ever before. Nations that encourage innovation and R&D, will enjoy immense rewards and see robust job creation. At this critical juncture, Lockheed Martin has identified three key elements that will provide countries with an edge in staying competitive and resilient. These include sound and stable policies that will lay the groundwork for sustainable innovation (including a strong tax and regulatory environment), modern infrastructure, and a clearly defined legal system that will enhance internal governance, foreign investments and domestic collaborations."
Hewson stressed the role of SMEs in cultivating an idea-centric culture of innovation and increasing job opportunities. She also called for greater diversity, referencing a recent UN report which states that only 25 percent of scientific researchers globally are women. Lauding the Masdar Institute's efforts in training and furthering the study of STEM subjects in the region, Hewson noted that today's younger generations are critical to strengthening the pipeline of talent. She endorsed a greater representation of young men and women in the scientific community to help design sustainable solutions for a brighter future.
The panel session was moderated by Dr Rafic Makki, Senior Vice President and Executive Fellow, Globalfoundries (UAE). Participants included Homaid Al Shimmari, CEO of Aerospace & Engineering Services, Mubadala Development Company (UAE), Dr Charles Elachi, Former Director of NASA Jet Propulsion Laboratory (USA), Andrew Hessel, Distinguished researcher, Bio/Nano Research Group, Autodesk, Co-founder of Pink Army Cooperative (USA), Jeffrey O. Kephart, Distinguished Research Scientist, Symbiotic Cognitive Systems, IBM (USA) and Dr Habiba AlSafar, Director, Khalifa University Centre for Biotechnology (UAE).
The session explored the capability of transformative innovations in creating jobs, boosting economic growth and investments and generating opportunities and wealth. From final frontier space technology, research on genetics and the smallest of human cells to intelligent cognitive computer systems transforming industry – the session drew on wide subjects and examples to illustrate opportunities in science. It also focused on the ethical, policy and regulatory roadblocks to widespread adoption and implementation of such innovation.
Homaid Al Shimmari, CEO of Aerospace & Engineering Services, Mubadala Development Company (UAE) commenced the session and commended the UAE's visionary leadership for achieving the complete transformation of this desert nation in a period of 45 years and embracing adaptability and change as tools to thrive and stay competitive.
Al Shimmari said: "Our leadership saw the potential of the natural resource we had without creating a dependent relationship on it. Our leaders were dedicated to the country, its people and always had faith in their abilities. Years ago, the Abu Dhabi Investment Authority was tasked with allocating excess capital from oil and gas into diversification projects. Today, that vision continues to be a priority and can be seen through the UAE's efforts to create a knowledge-based economy. In fact, in 2002, His Highness Sheikh Mohammed bin Zayed Al Nahyan, Crown Prince of Abu Dhabi and Deputy Supreme Commander of the UAE Armed Forces, founded Mubadala with the single goal of building such an economy – based on the exchange of ideas and strengthening of skills through shaping models of creativity and innovation that will help us sail through the next few decades."
Al Shimmari went on to discuss the role of education and youth in helping realise the leadership's vision. He added that UAE nationals are a minority in their own country, posing a further challenge in incentivising young adults to pursue STEM-based careers. In a nod to keynote speaker Marillyn Hewson's preceding address, he commended the importance of valuable partnerships in the private and public sector, to further this goal.
Providing examples of ethical dilemmas facing today's aerospace industry, Al Shimmari spotlighted autopilot system technologies in commercial aircrafts, which are already in the market, but had not been used because specialists have yet to rule out risks and design frameworks and policies to support this transformative technology and its potential impacts. He also spoke on the limited regulations currently governing data usage, sharing and storage and the prevailing security and privacy concerns in a heavily digitising world.
Adding to this discussion with examples, Dr Charles Elachi, Former Director, NASA Jet Propulsion Laboratory spoke on current research and the exploration of life on planets such as Mars and satellite planet Europa. He pointed out the emerging interest in resources on these planets that could benefit humans – given that Earth has always battled the problem of resource scarcity. He also noted the ethical dilemmas of ownership rights of resources found in space and stated that there are currently no policies addressing these issues.
Discussing the benefits of investments in space research, Elachi said: "Knowledge provides massive economic benefits. The smartphone network technology still in use today was used decades ago to communicate with space stations. The focal plane developed for telescopes was adapted for the modern cameras and can now be found even in our cellphones – completely transforming our life. Moreover, investment in such research inspires everyone – young or old – to aim for further knowledge and push the boundaries of creativity in the process."
Attendees also heard from Andrew Hessel, Distinguished researcher, Bio/Nano Research Group, Autodesk, Co-founder of Pink Army Cooperative, who reiterated the importance of policy in science with examples from the field of microbiology and genetics. As part of his presentation, Hessel stated that soon, life forms will be programmed the way computers are programmed today. He added that limits to enhancement of humans is bounded only our understanding of cellular biology.
Hessel said: "We are moving away from old forms of genetic engineering, to one that is more accessible and advanced. Welcome to the world of digital biology. DNA sequencing has transformed many industries already, and others such as Artificial Intelligence (AI) and Machine Learning are gradually emerging and changing the way we live. We are on the cusp of biological revolution underpinned by creativity and intent. The challenge now lies is how to embrace it, harness it and use it for the good – this is how progress will be made."
Adding to the potential of such fields in stirring diversification and new opportunities, Dr Habiba AlSafar, Director, Khalifa University Centre for Biotechnology, said: "The price tag of genetic research is huge, but worth the opportunities and solutions it generates. The information gained from genetic research is extremely valuable to enhance our knowledge and find answers to some very pressing health issues, and prevalence of inherited diseases."
She spoke on the progress made in genome sequencing and increase in genetic research in the Arab region and called out to all policymakers to remove barriers preventing progress such as availability of funding and competitive grants. She also stated the urgency of implementing laws against abuse of technology – both globally, and in the region.
Concluding the session, Dr Jeffrey O. Kephart, Distinguished Research Scientist, Symbiotic Cognitive Systems, IBM spoke on the company's efforts in utilising technology intelligence to diminish the gaps in human intelligence. Kephart cited the discovery by psychologists that humans are not good decision-makers – a finding that led IBM labs to create 'embodied cognitive specimens' which can help enhance human productivity.
Finally, echoing Her Excellency Dr Amal Al Qubaisi, Speaker of the Federal National Council (UAE)'s thoughts from the event's opening speech, Dr Kephart concurred that "technology must indeed be rooted in human value systems, so they do not replace us but become our partners."