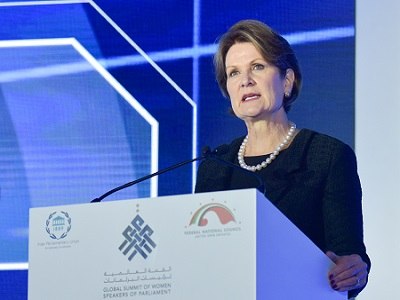 Marillyn Hewson, Chairman, President and CEO of global technology leader Lockheed Martin (NYSE: LMT) delivered a keynote speech to women speakers of parliament from around the world and global leaders across public and private sectors at the Global Summit of Women Speakers of Parliament in Abu Dhabi.
Brought to the Middle East for the first time, the summit is held under the patronage of Her Highness Sheikha Fatima bint Mubarak, Chairwoman of the General Women's Union, Supreme Chairwoman of the Family Development Foundation and President of the Supreme Council for Motherhood and Childhood.
In her speech, Ms. Hewson spoke on the role of transformative technology in addressing the world's most pressing challenges, and discussed actions that government, industry and society can take to encourage technological transformation in the future. Ms. Hewson also highlighted the importance of government, industry, and academia working hand-in-hand to create a sustainable future.
Commenting on the Summit, Ms. Hewson said: "It is a special honor to be in Abu Dhabi as the UAE makes history as the first nation in the Middle East to host the Global Summit of Women Speakers of Parliament. This Summit is a tribute to the UAE's optimistic vision for the future and its commitment to progress for all." Ms. Hewson added: "By leveraging shared strengths across the public and private sectors, we can collaborate to create long-term, innovative solutions for a brighter and more sustainable future."
As part of Ms. Hewson's visit to the United Arab Emirates, she met with Lockheed Martin's employees, reaffirming the company's long-term commitment to the United Arab Emirates.
For additional information, visit our website: www.lockheedmartin.com.
About Lockheed Martin
Headquartered in Bethesda, Maryland, Lockheed Martin is a global security and aerospace company that employs approximately 98,000 people worldwide and is principally engaged in the research, design, development, manufacture, integration and sustainment of advanced technology systems, products and services.