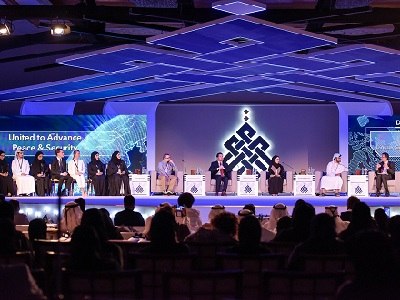 Appropriately titled 'Youth Perspectives', the seventh session of the Global Summit of Women Speakers of Parliament 2016 today convened panelists under the age of 30 to discuss their challenges, fears and aspirations for the future. Dominating the conversation were the three major themes of this year's summit: socio-economics, science and technology, and geopolitics.
Participants included His Excellency Saeed Saleh Al Rumaithi, Member of the UAE Federal National Council (FNC) and President of the Board of the Inter-Parliamentary Union (IPU) Forum of Young Parliamentarians, Her Excellency Alya Soliman Al-Jassim, Member of the FNC, Jacobo Pombo Garcia, President of the Global Youth Leadership Forum, and Jamie Woodruff, ethical hacker.
A number of students from Khalifa University, Paris-Sorbonne University Abu Dhabi, New York University Abu Dhabi, Higher Colleges of Technology and Zayed University also attended the session. Frank Sesno, Director of George Washington University School of Media and Public Affairs, led the discussion.
While recent years have seen an increased effort to involve the youth in international gatherings, a fresh IPU study shows that its participation in government remains very low with less than 1.9 per cent of members of parliament under the age of 30. Panellists noted that the youth is our future and changes need to be implemented to ensure that this crucial demographic is not being overlooked in planning for the future.
Kicking off the panel, His Excellency Saeed Saleh Al Rumaithi highlighted the importance of engaging the young generation. He said: "I thank the IPU for supporting young people. At this year's convention in Geneva, I was pleased to see an increase in youth participation."
He added: "Out of 45,000 parliamentarians worldwide, youth aged from 18 to 30 only make up 1.9 per cent. In collaboration with the UN, we are working actively to increase this number through various initiatives. It is important for the youth to be involved while they are still young because the decisions of today will affect their tomorrow. Parliamentarians need to take the necessary steps through legislation and ratification of related UN decisions and international agreements."
Jacobo Pombo Garcia said: "We are at a turning point in history, where many sectors are being either reinvented or left behind completely. This, along with many socio-economic and geopolitical factors, has led to staggering youth unemployment numbers, which can be detrimental not only to the individuals affected but to society as a whole."
He added: "It is important to see the main challenges that the world will face from the youth's perspective. Young people need to identify and discuss the real issues. Most importantly, the youth needs to understand that they are responsible for their own future, and governments need to help awaken this sense of responsibility."
Her Excellency Alya Soliman Al-Jassim said: "While modern technology has brought about changes in all industries and consequently in the job market, this does not mean that labour is not valuable anymore. The new generation is entering the workforce and we have a responsibility to ensure that they are prepared. To do this, we need to update the way we search for jobs and plan careers. Most importantly, the youth has to prepare for the future by investing in themselves."
One common question arose throughout the panel discussion: What can the youth who do not have the means to pursue an education do to prepare for the future?
Jamie Woodruff answered by sharing his personal story. He said: "Young people should have no limits. They should use their ambitions and aspirations to achieve whatever they want. My ambition allowed me to use my computer to create my own opportunities."
Among the university students on the panel, each had their unique perspective and suggestions for tackling the future challenges that the youth will face.
Hend AlTair from Khalifa University said: "Technology defines our generation. Currently, young minds are at the forefront of innovative ideas, however, in the long run, technology will actually continue to limit our minds' potential because we will have become completely dependent. It is important for the youth to understand that they have a responsibility and so they need to have initiative to ensure their future."
Fatima Alqaydi, also from Khalifa University, added: "We need to focus on three elements: youth empowerment, investment in education and increasing employment opportunities. Governments need to reflect on the future and build an adequate plan."
Continuing with the theme of youth responsibility, Larissa Bukharina from Paris-Sorbonne University Abu Dhabi, said: "Our actions can make a difference, even if they are very small. Consider the environment as an example: If we each take it upon ourselves to make tiny changes in our lifestyle, we have the power to slow down or potentially even stop climate change."
For her part, Maitha Al Memari from New York University Abu Dhabi spoke of the importance of cultural tolerance and diversity and their role in the upbringing of the youth. She added: "Our generation is very aware because we have access to more information and this can make us more empowered. However, we also need to encourage people to take risks and cultivate the entrepreneurial spirit."
Guillaume Sylvain from New York University Abu Dhabi stressed the importance of keeping the youth engaged. He said: "We need to learn how to work better together and be more tolerant. In today's world, we will only be successful if we create an inclusive society that is open to diversity."
Maryam Yaqoobi from Higher Colleges of Technology said: "The youth needs to actively work together to improve the community. Countries should focus on young people because they represent an immense pool of talent. Governments should harness these talents so that the youth has positive outlets instead of turning to extremist ideas."
Ahmed Issa Ahmed from Zayed University saw great potential in Islamic finance. He said: "Islamic finance holds great promise for creating a more sustainable future. It can create innovative and sustainable solutions for preserving natural wealth."